The town of West Hartford is broken into six districts, each with an organization that supports it's members, organizes events and promotes business. The West Hartford Chamber participates in each district association to ensure support to businesses across town.
Bishops Corner
The Bishops Corner Neighborhood Association (BCNA) is a not-for-profit organization comprised of local residents, businesses, non-profits, and advocates for the Bishops Corner Neighborhood of West Hartford. Specifically, our goals include: beautification of Bishops Corner, increased pedestrian and bicycle safety, to facilitate communication with residents, businesses and not-for-profits, and play an active role in redevelopment projects in Bishops Corner.
Blue Back Square
Blue Back Square is a unique shopping, living, dining, and entertainment destination anchored by Crate & Barrel, Barnes & Noble and Cinepolis Luxury Cinemas. Blue Back also has many upscale restaurants and eateries such as The Cheesecake Factory, Fleming's Prime Steakhouse, Gran Gusto, Rosa Mexicano, Vinted, and World of Beer. Centrally located in one of the most vibrant and exclusive neighborhoods of West Hartford and regionally accessible to all of Central Connecticut, Blue Back Square is where people eat, shop, live, work, and play. Luxurious, loft-style apartments are just steps away from shops, restaurants, and everything you'll need - It's all here at Back Square.
Design District of West Hartford
The Design District is an independent business community comprised of trusted, knowledgeable home design professionals located along the New Park Avenue corridor of West Hartford. With experts in the areas of exterior remodeling, interior design, furnishings, fixtures, and more, you only have to go to one place to find everything you need for a home renovation. If you're looking to start a project but don't want to shop at the big box stores, the Design District has everything you're looking for and so much more.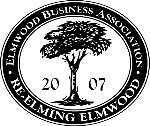 Elmwood Business Association
The Elmwood Business Association meets regularly on the first Friday of the month at WeHa Brewing & Roasting (8:30 am). The meetings last approximately an hour and are aimed at the business community in the Elmwood section of West Hartford, CT. The meetings are informative and serve to create a dialog between the local businesses and Town and State Representatives
Park Road
The Park Road Association is a not-for-profit organization made up of businesses, property owners, residents and individuals. It's an advocate for the neighborhood and interacts with state and local government as needed to benefit of the neighborhood. The Association is involved in many activities which address safety, business promotion and quality of life issues.
Members get to share their views at monthly meetings at which they also receive updates from the West Hartford Police Department and other governmental agencies.
West Hartford Center Business Association
Why not start at The Center of everything? It's all right here: exceptional shopping, delightful dining, and stellar services. West Hartford Center has all the charm of a traditional main street shopping district, with many locally owned businesses striving to offer that old-fashioned personal service. Come for a visit and discover for yourself why West Hartford Center is one of the best little downtowns in New England.
Shop. Dine. Stroll. Join the experience!