The West Hartford Chamber offers a range of opportunities to generate brand awareness, align your organization with programs and services, and reach your desired audience.
Many of our marketing options are benefits of your West Hartford Chamber membership, and are available at no additional cost.  Others are available for a nominal fee.
Included With Chamber Membership:
Hot Deals and Member-to-Member Deals provide the opportunity to share special discounts with other members and the community.  Build awareness and drive leads, foot traffic, or web visitors.  Hot Deals are open to anyone who visits the West Hartford Chamber site, while Member-to-Members Deals are only available to individuals logged in to their whchamber.com account.
Learn how to share your deal by watching this video tutorial.
Do you have an upcoming event? Are you trying to generate additional traffic to your business? Do you want your event to reach a broad audience?
West Hartford Chamber Members are welcome to post their community events on the Events calendar.  As the most frequently used section of the website, the Events Calendar allows you to showcase your offerings.  Members share upcoming performances, educational sessions, retail sales, non-profit fundraisers, and more.
Learn how to post your event by watching this video tutorial.
Member Directory and Community Guide
The West Hartford Chamber Member Directory allows you to showcase your business and makes it easy for your customers to find you.  The digital directory is live 24/7, allowing real-time updates to logos, contact information, and more.
Each spring, a new issue of the Member Directory & Community Guide goes to print.  This high quality booklet includes information on all Chamber Members, maps of West Hartford, and an overview of what makes this community so special.  Inclusion in the Community Guide is a member benefit, while enhanced listings and full-color ads are available for a fee.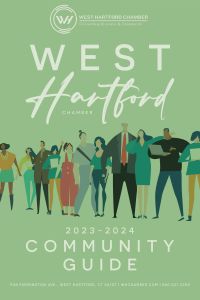 The Member News section allows you to share Press Releases quickly and easily with your fellow Chamber Members.  Use the reach of our website to share important announcements, achievements, and updates with the community.
Learn how to publish your Press Release by watching this video tutorial.
Additional Marketing Add-Ons:
Eblasts allow you to tap in to the West Hartford Chamber's email distribution list of over 3,000 local, engaged community members. It's a low-cost, effective way to spread the word about your event, promotion, or news.  Limited to just one sponsored email per week, they are available on a first come-first served basis.  Simply provide graphics, links, and verbiage, and the Chamber team will create an aesthetic, engaging communication on your behalf.  With 3 times the industry average open- and click through-rates, you'll be sure to reach your audience.
Banner ads allow you to leverage the West Hartford Chamber's web traffic to showcase your organization.  Banner ads are displayed in various locations across the site to allow you to target your desired audience and achieve your goals.
Sponsoring events and programs hosted through the West Hartford Chamber provides an opportunity to build brand awareness for your organization while demonstrating your commitment to civic engagement.  Additionally, you can further your organizational objectives by supporting the programs and events that serve your customers, employees, and other stakeholders.